TOY'S MUSIC BAR Pattaya
Too often, on the net, we only talk about Girly Bars and Bar Girls in Pattaya, a Thai seaside resort, well known throughout the world. However, there is a wide range of establishments for entertainment, both day and night. If you are looking to spend a good evening in Thailand in a Bar restaurant in Pattaya (Jomtien) whether it is to drink a good glass of whiskey or local beer, or to taste one of the Thai specialties while listening to a good group of Thai music , the TOY'S MUSIC BAR is the ideal place.
Want to go out in Jomtien tonight ?
Where is Jomtien located ?
Jomtien is further south. Pattaya can be subdivided into three main districts: Jomtien (in the south), central Pattaya and Naklua (in the north)
Why go to Jomtien ?
Jomtien is one of the quieter and more family-friendly areas of Pattaya. This area has cleaner beaches and is also greener.
Thai music group
From 8 p.m. to midnight every day, the Toy's Music Bar Thai music group, consisting of four musicians and a singer, perform popular Thai songs.
Strong points
Group of 5 Thai
Live music every day, from 8 p.m. to midnight
Possibility to request to play a song
Have a drink and eat
The Toy's Music Bar is also a Thai Restaurant. It is also possible to sip a good glass of Thai or foreign whiskey, to drink a local or foreign beer, or to eat one of the many Thai specialties surrounded by a pleasant female staff. The Bar and the restaurant are open from 2 p.m. to midnight. Free billiards. Is there a wheelchair accessible entrance? Yes. All beers at only 60 Thb! Happy hour Departure from 2 p.m. to 6 p.m.
Why go for a drink in this Music Bar in Jomtien?
Thai specialties.
Free pool.
All beers at 60 Thb from 2 p.m. to 6 p.m.
Whiskey set promotion every Friday.
Live music every day, from 8 p.m. to midnight
Access to wheelchairs.
Drink Menu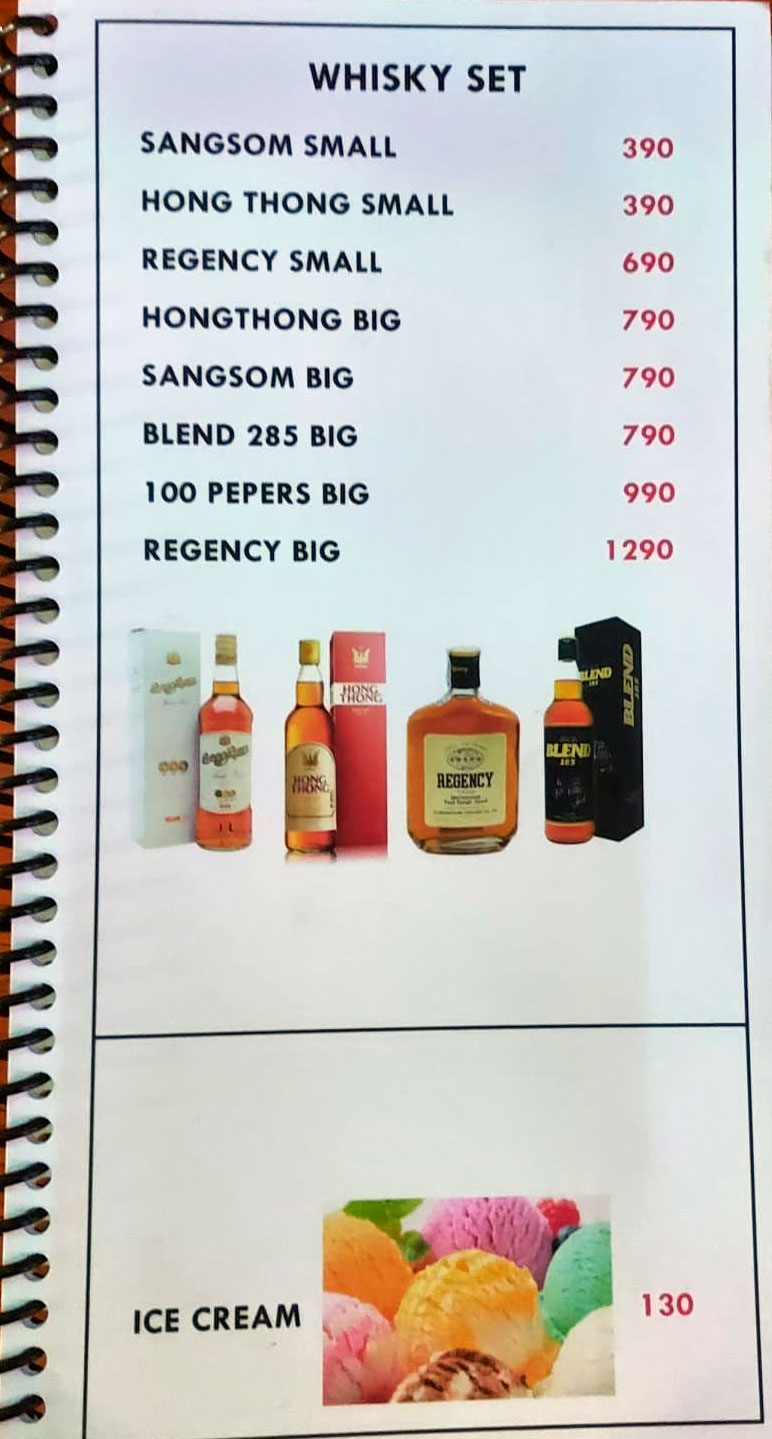 Beers
All beers at 60 Thb from 2 pm to 6 pm
Leo 75 (thai beer)
Chang 75 (thai beer)
Singha 75 (thai beer)
Singha Light 75 (thai beer)
Tiger 75 (thai beer)
Tiger Light 75 (thai beer)
Heineken 85
San Miguel 85
Leffe Blonde 180
Leffe Brune 180
Whisky Set
Sangsom Small 390
Hong Thong Small 390
Regency Small 690
Sangsom Big 790
Hong Thong Big 790
Blend 285 Big 790
100 Peters Big 990
Regency Big 1290
Wine
Spy 100
Red Wine Glass 120
Red Wine Bottle 690
White Wine Glass 120
White Wine Bottle 690
Breezer 120
Smirnoff 120
Tom Yum
Tom Yum chicken 150
Tom Yum shrimp 150
Tom Yum seafood 150
Restaurant Menu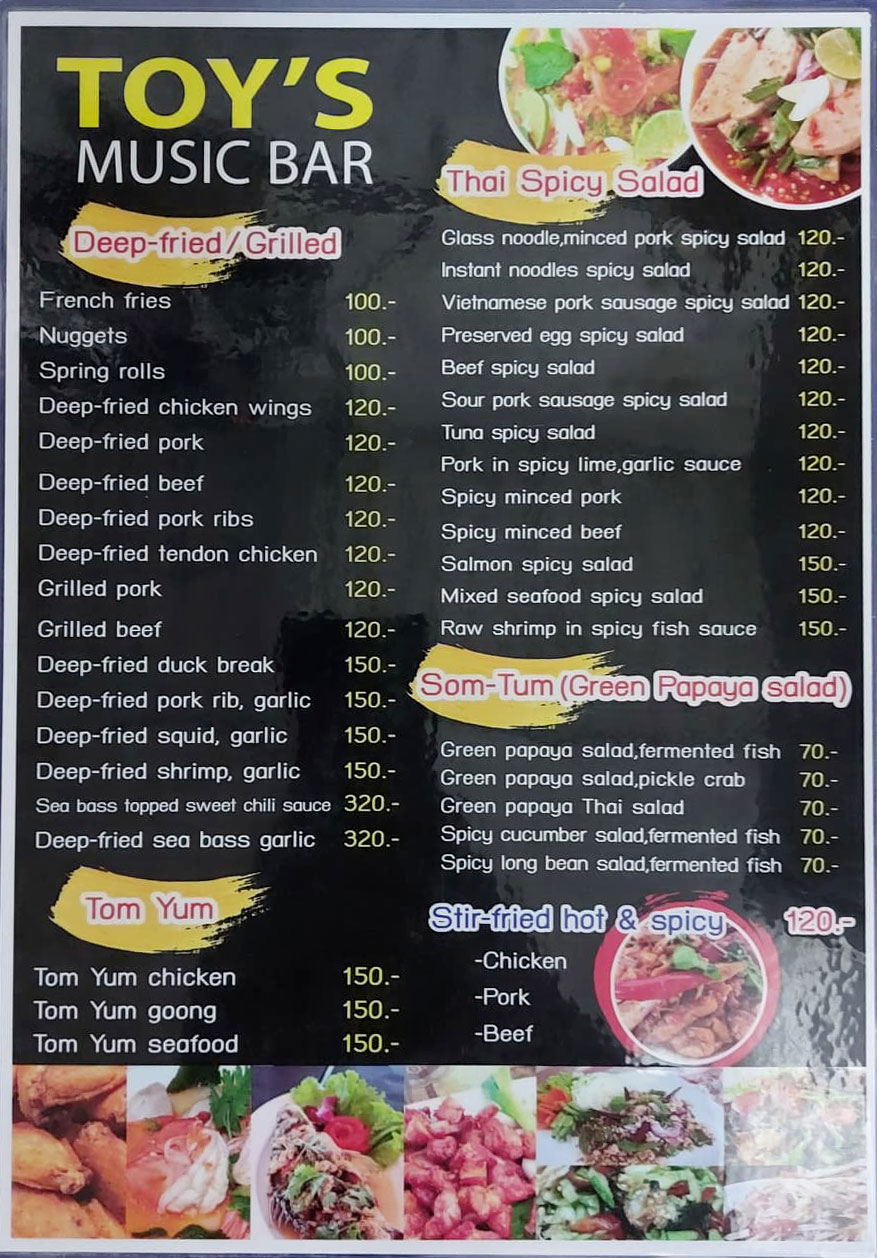 Deep-fried / Grilled
French fries 100
Nuggets 100
Spring rolls 100
Deep-fried chicken wings 120
Deep-fried pork 120
Deep-fried beef 120
Deep-fried pork ribs 120
Deep-fried tendon chicken 120
Grilled pork 120
Grilled beef 120
Deep-fried duck break 150
Deep-fried pork rib, garlic 150
Deep-fried squid, garlic 150
Deep-fried shrimp, garlic 150
Sea bass topped sweet chili sauce 320
Deep-fried sea bass garlic 320
Tom Yum
Tom Yum chicken 150
Tom Yum shrimp 150
Tom Yum seafood 150
Thai Spicy Salad
Glass noodle, minced pork spicy salad 120
Instant noodle spicy salad 120
Vietnamese pork sausage spicy salad 120
Preserved egg spicy salad 120
Beef spicy salad 120
Sour pork sausage spicy salad 120
Tuna spicy salad 120
Pork in spicy lime, garlic sauce 120
Spicy minced pork 120
Spicy minced beef 120
Salmon spicy salad 150
Mixed seafood spicy salad 150
Raw shrimp in spicy fish sauce 150
Som-Tum (Green Papaya salad)
Green Papaya salad, fermented fish 70
Green Papaya salad, pickle crab 70
Green Papaya Thai salad 70
Spicy cucumber salad, fermented fish 70
Spicy long bean salad, fermented fish 70
Stir tried hot and spicy
Chicken 120
Pork 120
Beef 120
Map of Pattaya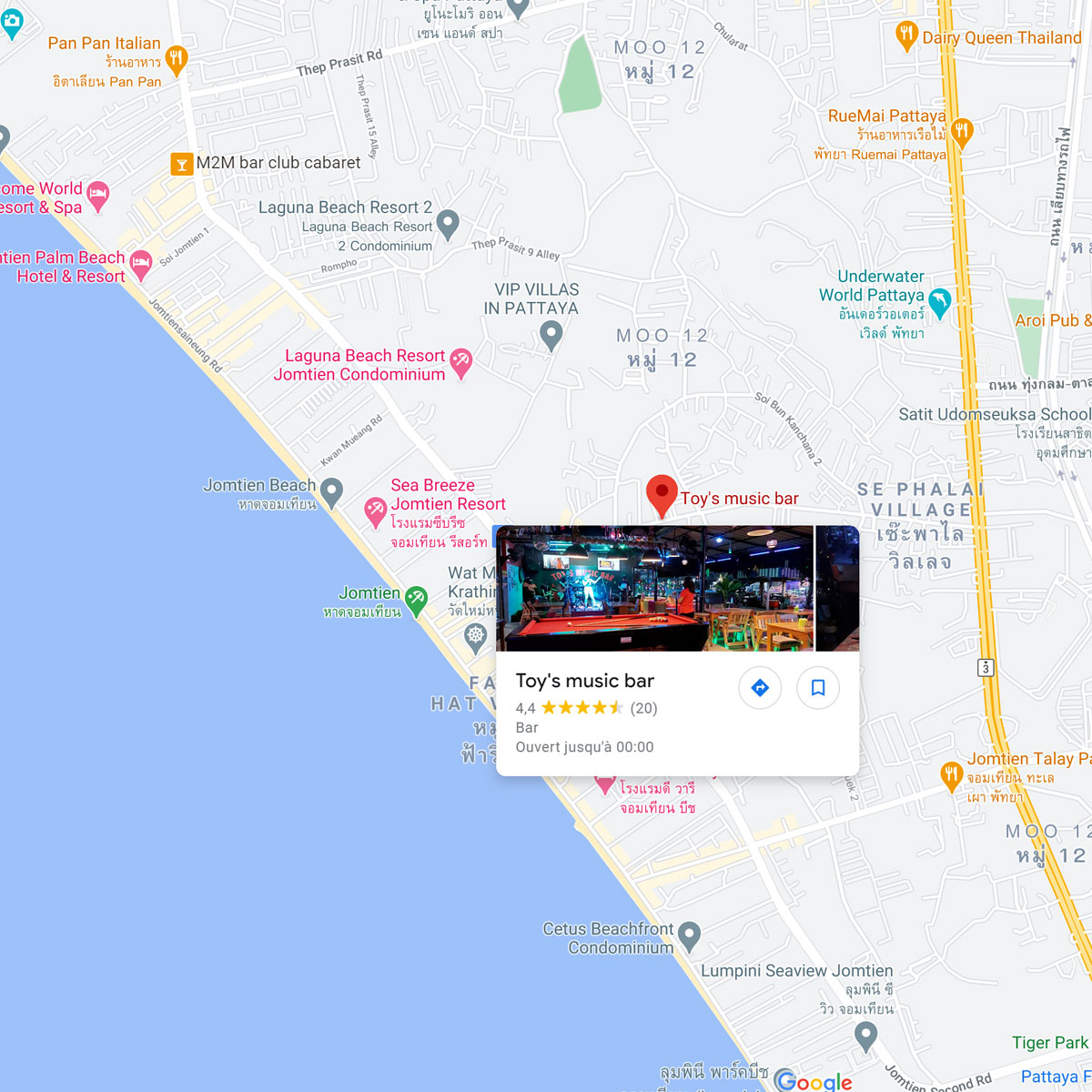 Address of the Bar : Bun Kanchana Alley, Pattaya City, Bang Lamung District, Chon Buri 20150, Thailand
Facebook