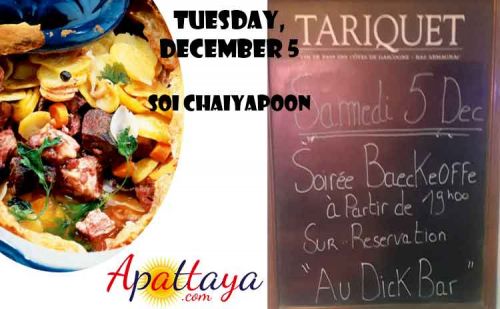 Saturday December 5, 2020 Baeckeoffe evening at Dick Bar Soi Chaiyapoon Pattaya
Baeckeoffe evening in Pattaya
Looking for a place to go out, to eat on the Soi Chaiyapoon ?
It's the right time to discover one of the Pattaya bars in Thailand, take advantage of this Baeckeoffe evening to get to know the residents of Pattaya.
Date and time of the evening
The evening of Saturday December 5, 2020, begins at 7:00 p.m. Baeckeoffe by reservation.
Baeckeoffe d'Alsace
Baeckeoffe, is a traditional dish of Alsatian cuisine, based on potatoes, vegetables, and an assortment of lamb, beef and pork, marinated, then stewed on more than 24 hours in a terrine, with spices, and white wine from the Alsace vineyard.
Address
Dick Bar: Soi Chaiyapoon , Pattaya, Chonburi, Chon Buri 20150, Thailand
Situation
The Dick Bar is located halfway into Soi Chaiyapoon on the right side when you come from Soi Buakhao.