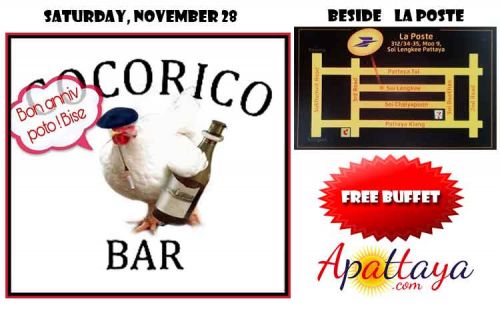 Saturday November 28, 2020 1st Anniversary Party at Cocorico Soi Lengkee Pattaya in Thailand
1st Anniversary at Bar Cocorico
Are you looking for a place to go out, to relax on Soi Lengkee ?
It is the right time to discover one of the bars of Pattaya in Thailand, take advantage of this first anniversary of Cocorico evening to get to know the residents of Pattaya.
Everyone is welcome, the 1st Anniversary evening starts at 7 p.m.
Free Buffet
What could be more appealing than a good Free Buffet and BBQ followed by a few good drinks with friends.
Address
Bar Cocorico : 312 / 34-35 soi Lengkee Pattaya, Thailand 20150
Situation
Bar Cocorico is located, beside Bar Club La Poste three quarters of the way in Soi Lengkee on the left side when coming from Soi Buakhao